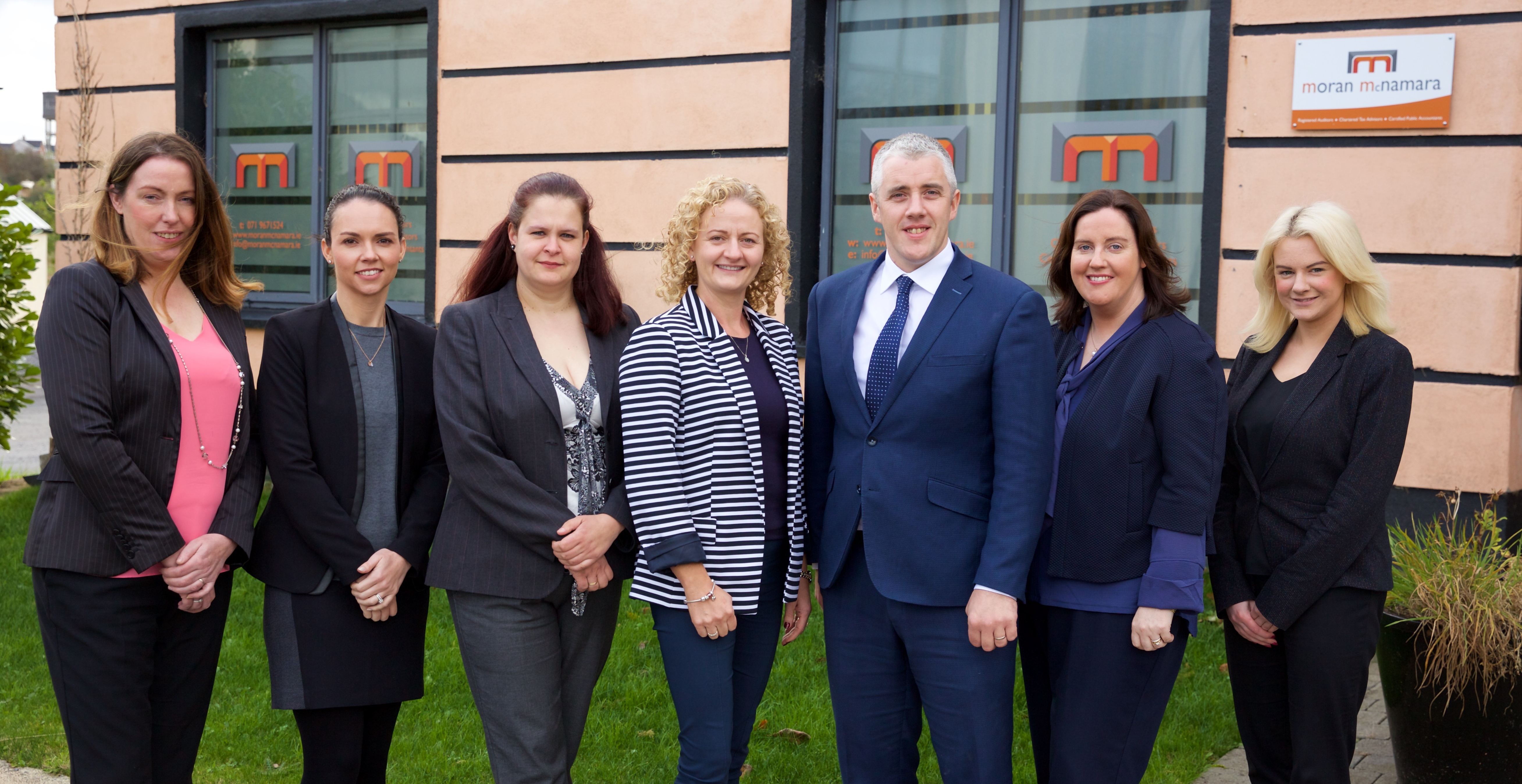 Chartered Tax Advisors as well as Certified Public Accountants, Moran McNamara are equipped to handle all your financial needs. We work across a wide range of SME industry sectors, sole traders, professionals, farmers, community groups and not for profits.
With combined experience of over 35 years, we are passionate about business start ups and offer support in cash flow planning, business planning, commercial risks, expected profitability, financing, accessing grants, help them find the best bookkeeping system for their business and best options for business structures.
Sheila Moran B.Comm, H.Dip in Ed, ACPA, CTA - Director
More about Sheila
Sheila has 21 years experience working as a Certified Public Accountant (CPA) and Chartered Taxation Advisor (CTA) and has spent her career working closely with individuals, professionals and owner manager businesses assisting clients understand their financial performance and comply with their statutory and taxation requirements. She takes the time to understand individual needs and provides her clients with a tailored service. She is also actively involved in advising business start ups on working capital management, banking and the preparation of financial projections. In addition to her financial qualifications, B. Comm, ACPA and AITI, she holds an Honours Higher Diploma in Education, (NUI Galway) which has helped in mentoring and training roles.
E-mail: sheila@moranmcnamara.ie Phone: 087 9207898
Declan McNamara DPA, BAAF, FCCA, CTA - Director
More about Declan
A Fellow of the Association of Chartered Certified Accountants Declan is a qualified Chartered Certified Accountant with over 14 years experience in accountancy public practice. Declan brings an impressive level of expertise in the areas of audit and assurance services, accountancy and business advisory, tax consultancy, VAT compliance, business financial planning. This impressive financial services portfolio extends across a wide range of sectors from agriculture to industry and services. He takes the time to understand individual needs and provides his clients with a tailored service. Declan is an associate of the Irish Taxation Institute. He also holds a First Class honours B.A. in Accounting and Finance, a National Diploma in Professional Accounting and is a past prize winner of the ACCA. E-mail: declan@moranmcnamara.ie Phone: 087 6106807
Nadine Charles BBS, FCCA Audit Senior
More about Nadine
Nadine holds a fellowship of the Association of Chartered Certified Accountants and has has over 10 years' experience in both industry and public practice. She specialises in providing audit, accounting and financial services at a senior level to a broad range of clients in a variety of commercial industries as well as the charities and legal sectors. This experience has enabled her to develop a high level of analytical and problem solving abilities, which she displays in her dealings with clients. In addition to her FCCA qualification she holds a First Class honours Bachelor of Business Studies Degree
E-mail: nadine@moranmcnamara.ie
Olivia Sugrue DPA, BAAF, FCCA - Accounts Senior
More about Olivia
Olivia is a Fellow of the Association of Chartered Certified Accountants working in public practice for over 15 years. She is involved in all aspects of general practice with particular experience in providing accounting and tax compliance services to small / medium sized companies and sole traders. Olivia is keen to assist clients improve and develop their accounting systems and will work directly with the client in achieving this. She also holds an honours degree, BA of Accounting and Finance and a Diploma in Professional Accounting. E-mail: olivia@moranmcnamara.ie Phone: 071 9671524
Michelle Maye - Accounts Semi Senior
More about Michelle
Michelle is an Accounts Semi-Senior studying with the CPA and has over 7 years' experience working in an accountancy practice environment.
Michelle specialises in payroll administration and support for clients, as well as accounts preparation for a wide variety of sole traders, companies and schools. Michelle is the first point of contact and enjoys interacting and assisting clients on a daily basis.
E-mail: michelle@moranmcnamara.ie Phone: 071 9671524
Bernadette Arandelovic - Practice Administrator
More about Bernadette
Bernadette has over 14years work experience in the accountancy sector and prior to that was Self Employed in a successful family run business for 15years. She holds a certificate in Microsoft Office Specialist. Bernadette is proficient in payroll administration and assists clients with their VAT compliance obligations.
She also aids clients with their Company Secretarial obligations, is responsible for new client engagements, practice administration and assists clients on a wide variety of ad hoc queries.
E-mail: bernadette@moranmcnamara.ie Phone: 071 9671524